DEUTSCHE VERTEIDIGUNGS DIENST STAGED NORTH KOREAN CRISIS USING PUPPET KIM JONG-UN
UHM – Deutsche Verteidigungs Dienst staged North Korean Crisis and puppet Kim Jong-un
By – The Unhived Mind – 5th April 2013
The Order of Malta controlled Deutsche Verteidigungs Dienst continuum of the Nazis hidden in the CIA's Directorate for Intelligence division are once again up to their old tricks. Their toxic derivatives troubles via Deutsche Bank and Commerzbank the other week saw these Nazis fleece the Cypriot peoples of up to sixty-percent of their bank saving. This was all veiled as Angela Merkel's fault so it looked like a strategic German political move for the coming elections in order to please then angry German voters. Angela Merkel received a pay off by the Deutsche Verteidigungs Dienst to the sum of $3m for her troubles via the European Central bank through the Central Bank of Japan.
Now we see the same DVD intelligence apparatus using a branch of Commerzbank in the United States in order to pay off the North Korean leader, Kim Jong-un to the tune of $3bn for his role in this North Korean crisis. Most of us who have delved deep enough already know how Knight of Malta, George H.W Bush (DVD head, Order of the Bath) has been the kingpin over North Korea and part of the Japanese system the latter of which he has kept down for many years now. George H.W Bush has a super-dollar printing press that sits in North Korea printing up fraudulent Federal Reserve notes wrongly called American dollars. George H.W Bush regularly supplied Kim Jong-un's father with Swedish girls for his sexual pleasure.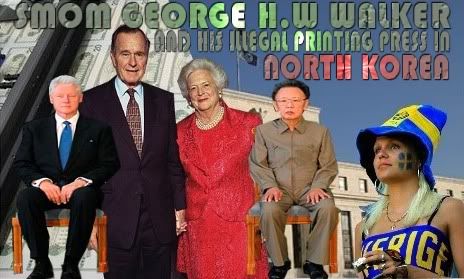 Right now there is a massive debt crisis looming for Japan and South Korea. Any North Korean crisis will rock the financial system of the World but more importantly the Japan and South Korean financial systems. This crisis could be used to cover-up the real reasons for a major debt crisis and thus save the bankers from blame once again. The DVD could be trying to further cripple both South Korea and Japan so they can be merged together with a newly created North Korea after it is destroyed. Notice the large surprising Japanese stimulus yesterday announced by the Bank of Japan.
A lot of the Japanese population most likely will be shipped to the Korean peninsula as radiation levels and radiation poisoning continues in their homeland after the Fukushima Daiichi disaster. Any study of the US West Coast and Fukushima will show you the destruction of the radiation dumped in the region from the nuclear disaster that was two-hundred times as deadly as Chernobyl which left Europe with terrible thyroid disorders. Now the US West Coast has a population who's babies are seeing a 30% increase in thyroid problems due to radioactive Iodine-131. The same I-131 the US Citizens was not allowed to fight against with iodine supplementation since the US Govt told US doctors not to hand out iodine to fearful patients. Why? Look into the Club of Rome's Malthusian population reduction program. More importantly look into Audrey Tomason's (U.S. Director for Counter-Terrorism) 'Apocalypse Equation' thesis. In this hidden thesis you will see she wants so-called humane-depopulation utilizing nuclear radiation.
Finally we may just see the crazies in the DVD try to go for an all out World War III scenario by bypassing the Middle East and kick starting it from the Korean Peninsula. The intelligentsia will always add multiple agendas and angles to their events for many outcomes in their favor. What we could see is a big event with North Korea and nuclear weapons in order to help demonize Iran further with their independent nuclear energy programme. We have already seen attempts by the DVD claiming Iran is working with North Korea on nuclear weapons. I should remind you that DVD agent, Donald Rumsfeld gave North Korea nuclear technology just as he gave Saddam Hussein chemical weapons to attack Iran.
What then could happen is we have this big event in the Korean Peninsula and a big event suddenly happen in Iran. This would ignite the World War III scenario and then the draft and conscription will be back to mop up all those unemployed useless youths hindered by the lack of education due to outcome-based education, current financial crisis, job outsourcing/robosourcing and the planned Zero-Growth Post-Industrial Society. The parents will have to be hoodwinked that their children are being sent to fight the North Koreans. Why? Westerners now see through the scam of the Middle Eastern wars so they would be reluctant to accept a draft/conscription to fight in the Middle East. North Korea will be a different story especially if a sovereign nation is hit by a nuclear weapon and even more so if it is the U.S. mainland attacked. This will be of course a staged false flag event and Kim Jong-un will have fallen for it hook, line and sinker. Instead of the drafted western soldiers going to the Korean peninsula, they will be diverted to the Middle East to continue the unholy final crusade and to remove the Shia who stand in the way of the Jesuit Pope's Temporal Power over the globe.
May I remind you that Japan has been attacked physically by the DVD, Israeli Intelligence, The Worshipful Company of Fuellers and The Worshipful Company of Mercers back in March of 2011 for financial and uranium processing reasons. They were economically attacked long before and one example was the attack on carmaker Toyota with false claims of mass faults with their cars within the United States. All this was in order to also aid the finances of the U.S. Government after their takeover of General Motors which the Japanese Government would not help bail out during the early global economic collapse. You might also notice that Germany's main export is motor cars such as BMW, Mercedes and Audi. What is happening these days with the car market? Many cars are now being created in South Korea just like all the electronics industry which was purposely removed from Japan the once king of the electronics industry. Notice now how some large Japanese electronics companies are on the brink of collapse and some are even teaming up with Korean firms to survive. What do you think will happen to your electronic gadgets and cars if there is a war in the region? Expect very little to come to the West and what is available will be very costly indeed. This would be good for German car exports if it goes ahead and this would help a stagnating German economy. Maybe this is why all of a sudden Apple and Google are gearing up for some technology manufacturing in the United States under the guise of being ashamed of the conditions of Foxconn in China.
Ref:
JOE VIALLS – Ryongchon – Nuclear Trigger for American Conscription?
http://theunhivedmind.com/wordpress2/?p=16865