Pro-Palestine, pro-Israel marchers face off in London on Balfour Declaration anniversary
Pro-Palestine, pro-Israel marchers face off in London on Balfour Declaration anniversary (VIDEO)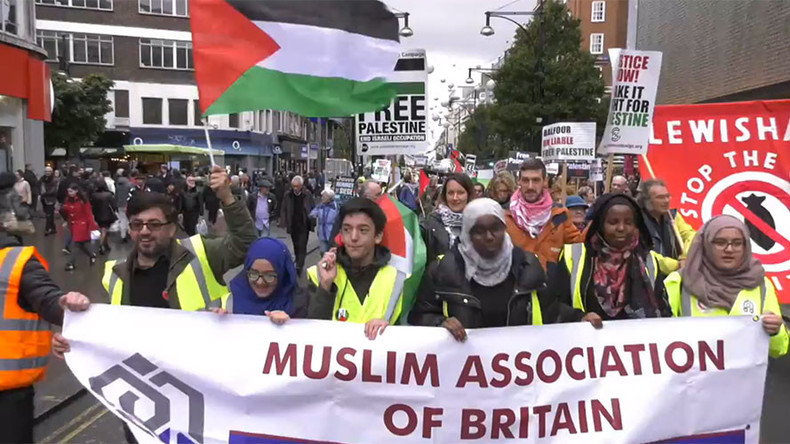 Thousands of pro-Palestinian demonstrators marched through London on the 100th anniversary of the Balfour Declaration, a letter of support for a Jewish state and a key step in the creation of modern-day Israel.
Protesters, whose numbers are estimated by various media at 2,000 to 3,000, carried Palestinian flags and shouted "free Palestine." Their march comes on the heels of Israeli Prime Minister Benjamin Netanyahu's visit to London to mark 100 years since the Balfour Declaration.
The pro-Palestinian crowd was met by dozens of pro-Israeli counter-protesters. Police intervened to separate the two groups and avoid violence, but verbal insults still flew as pro-Palestinians accused pro-Israelis of terrorism and were branded "Jew haters" in return.
READ MORE: Tony Blair & John Kerry celebrate Balfour, marking 100yrs since UK helped create Israel
The Balfour Declaration is a bone of contention for supporters of the creation of a Palestinian state, which they believe set the stage for Israel's present-day occupation of Palestinian land. Signed by then Foreign Secretary Arthur Balfour, it said the British government "views with favour" the creation of "a national home for the Jewish people" in Palestine and "will use their best endeavours to facilitate" it.
UK Prime Minister Theresa May has attempted to straddle the divide between Israel and Palestine, saying she would never apologize for the Balfour Declaration, but at the same time slammed Israel's unrelenting push for settlements in the occupied territory as a "barrier" for peace.