The Bush-Clinton-CIA Nazi Dictatorship Will Still Face Physical Decapitation
The Bush-Clinton-CIA Nazi Dictatorship Will Still Face Physical Decapitation
by Tom Heneghan, International Intelligence Expert
UNITED States of America – It can now be reported that the U.S. CIA and the U.S. NSA aka the Bush-Clinton-Obama Crime Syndicate are defying a direct order from the U.S. Military Flag Officers to surrender and capitulate aka the "48 Hour Warning" to return the United States Constitutional Rule of Law with the immediate inauguration of DULY ELECTED natural born REAL President of the United States of America Albert Gore Jr of Carthage, Tennessee.
Note: Absolute evidence now exists from the year 2000 presidential election audit that Albert Gore won the popular vote by actually FOUR (4) MILLION and over 330 Electoral College votes.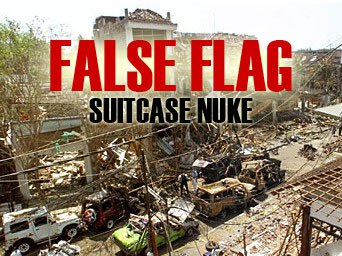 P.S. It is former CIA and NSA Director German Nazi and 9/11 co-conspirator Michael Hayden and his partner-in-crime 9/11 co-conspirator Nazi Jew Michael Chertoff and CIA Mormon Church crooked bank Goldman Sachs stooge Edwin McMullin that, now along with the Israeli Mossad, are threatening to use ISIS terrorists now fully armed on American soil with nuclear suitcase bombs to directly attack American cities if the U.S. Military Flag Officers move for physical decapitation of the criminal Bush-Clinton-Obama-German Nazi Paperclip controlled U.S. CIA.
P.P.S. It won't work!
The final resolution of the Second American Revolution has already been scripted by U.S. Defense Intelligence and the CIA and the NSA, which has rigged the U.S. electoral process since the late 1980s and the early 1990s WILL BE DECAPITATED!
The American People now are full of Jacobinian rage!
Historical definition: When the left and right combine together to reach a conclusion that the only solution to put an end to this TREASONOUS filth is the direct use of physical brute force!
MESSAGE TO THE AMERICAN PEOPLE
Understand where this is going. This country is not ruled by pilgrims or the puritan ethic. It is directly ruled by:
THE CONSTITUTION OF THE UNITED STATES OF AMERICA
AND THE PRINCIPLES OF THOMAS JEFFERSON,
THE FRENCH ENLIGHTENMENT AND THE
RIGHT OF THE INDIVIDUAL TO MAKE THEIR OWN DESTINY

WITHOUT OLD TESTAMENT BLASPHEMING
NAZI PURITAN JUDGEMENT