Royal Navy has 'woefully low' total of ships, MoD made 'extraordinary mistakes' – MPs
Royal Navy has 'woefully low' total of ships, MoD made 'extraordinary mistakes' – MPs
Published time: 21 Nov, 2016 11:20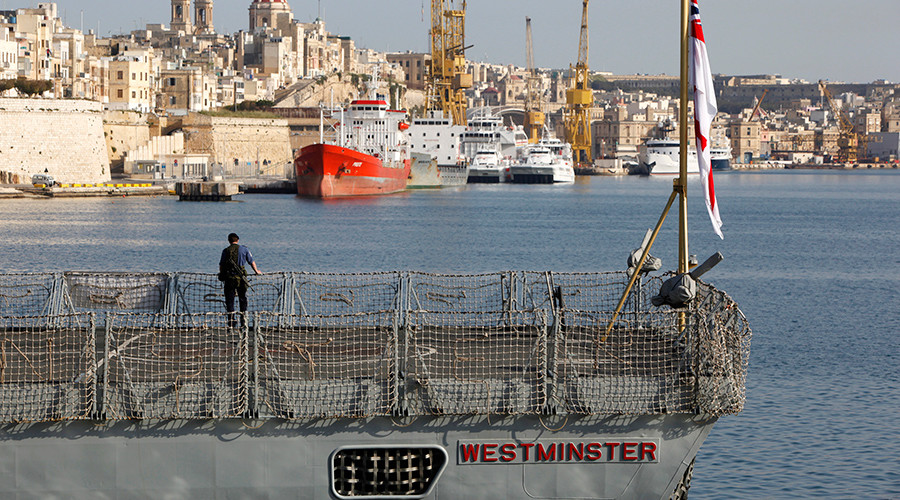 The Royal Navy has a "woefully low" number of ships available for overseas deployments, while cutting-edge vessels intended to replace the aging fleet are prone to engine and design failures, the parliamentary Defence Committee has warned.
The latest Defence Committee report, 'Restoring the Fleet: Naval Procurement and the National Shipbuilding Strategy', said the 19 destroyers and frigates currently operated by the Royal Navy fleet "is way below the critical mass required for the many tasks which could confront it."
Dropping below that number – "already a pathetically low total" – would leave the UK unprepared to deter perceived security threats, the reports says, such as "Russian assertiveness" and conflicts in the Middle East. It would also be unable to conduct missions near Chinese waters and meet Britain's NATO obligations, the report adds.
"The United Kingdom will then lack the maritime strength to deal with the threats we face right now, let alone in the future. We are putting the MoD [Ministry of Defence] on notice that it must not let this happen," said Dr Julian Lewis, Defence Committee chairman.
All the Royal Navy's 13 Type 23 frigates are due to be decommissioned between 2023 and 2035 at a rate of one vessel a year, and the future of the new ships that would replace them is clouded.
The first Type 23 was commissioned in 1989, and the last one, HMS St. Albans, was delivered to the military in 2002.
The Royal Navy says the old frigates will be replaced by the Type 26 Global Combat Ship starting from 2021, but MPs maintain this is in doubt unless there is a clear timetable set out by the MoD for the replacements.
The report also criticized the MoD for making "extraordinary mistakes" in the design of six cutting-edge Type 45 destroyers, which cost £1 billion each (US$1.23 billion at current rates) and are intended to become the backbone of UK naval power for decades to come.
In January, the Type 45s were called for in for refits after repeated breakdowns. In 2014, HMS Dauntless left a training mission due to engine failure and in 2009 HMS Daring lost power in the middle of the Atlantic on its first trip to America. Daring also lost propulsion in Kuwait in 2012.
Former Navy commander Lord Alan West called the breakdowns "a disgrace" for a nation that enjoyed overwhelming supremacy at sea until the collapse of the British Empire.
Royal Navy's £1bn destroyers keep breaking down https://t.co/bFg6MkiCiO pic.twitter.com/ZKpC6LKNA9

— RT (@RT_com) January 30, 2016
Later, it was revealed that the Type 45s could not operate continuously in warm waters, such as the Persian Gulf. The military said the destroyers would have their Rolls-Royce WR-21 gas turbines replaced with diesel generators.
The situation "resulted from major shortcomings in specification, design and testing for which blame can be attributed both to the MoD and its contractors," the report stated.
"The UK's enduring presence in the Gulf should have made it a key requirement for the engines. The fact that it was not was an inexcusable failing and one which must not be repeated," it added. "Failure to guarantee this would put the personnel and ships of the Royal Navy in danger."