With Syrian War Won, Putin Warns Of "Planetary Catastrophe" As Japan Begins Mass Evacuation
With Syrian War Won, Putin Warns Of "Planetary Catastrophe" As Japan Begins Mass Evacuation
By: Sorcha Faal, and as reported to her Western Subscribers
A somber new Ministry of Defense (MoD) report circulating in the Kremlin today states that the Syrian War is now "all but won" after Russian warplanes and Black Sea Fleet warships pounded Islamic State forces into "near total obliteration" over the past 24 hours allowing Syrian military units to capture these terrorists last stronghold in central Syria, and that allowed Russian-backed allied forces to break the 3-year ISIS siege of Deir ez-Zor earlier today—but whose victory is being overshadowed by President Putin's just issued grave warning that the West's hysteria over North Korea "may lead to a planetary catastrophe".  [Note: Some words and/or phrases appearing in quotes in this report are English language approximations of Russian words/phrases having no exact counterpart.]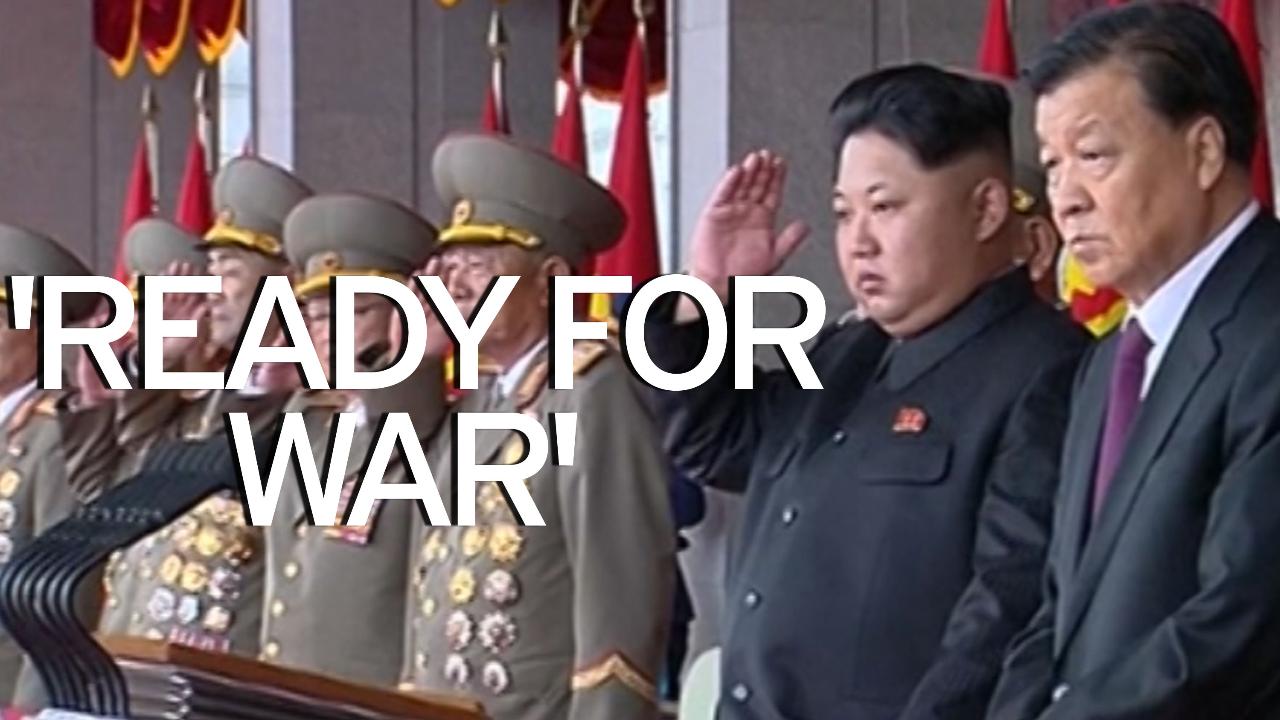 According to this report, at the same time that Japan announced that it was preparing to evacuate over 60,000 of its citizens from South Korea before the outbreak of total war, President Putin warned the West that sanctions against North Korea would never work, and his stating that the North Koreans "will eat grass but will not stop their nuclear program as long as they do not feel safe"—a situation, in fact, the American's themselves created by their failing to abide by any international law in their invading and bombing every nation in the world not able to defend itself.
To anyone in the warmongering US establishment heeding these warnings, however, this report notes, appears unlikely as the American's seem content upon sowing as much chaos in the world as possible, including their escalation of tensions with Russia—and whom in dealing with these "idiots" President Putin aptly described: "It's difficult to have a dialogue with people who confuse Austria and Australia. There is nothing to do about it.  Apparently that's the level of political culture of a certain part of the American establishment."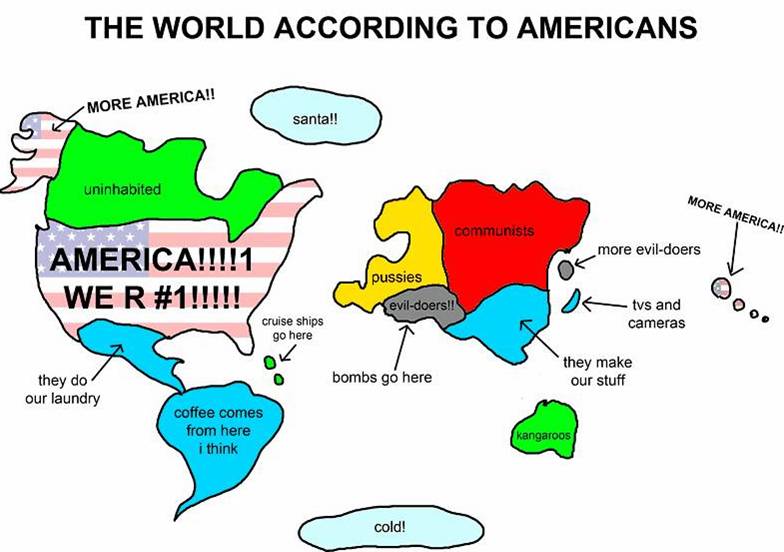 With North Korea now being reported to be preparing for another ICBM missile launch, this report continues, President Trump said that the US was prepared to stop all trading with countries doing business with them, but that his critics immediately hammered with their claiming that this action would mean economic ruin for the United States—which is a shocking admission that the cost of economic globalism has been the compromise of American independence.
The only people in the United States supporting President Trump and American independence, though, this report notes, are the tens-of-millions of those US citizens who voted for him—but whom the "Deep State" just issued a warning against by one of their main spokesman, former President Reagan and President Bush administration official Bruce Bartlett, who openly declared warfare upon all of them with his stating: "There is no longer any doubt – ALL (100%) of Trump supporters are racists. If you don't like it, fuck you."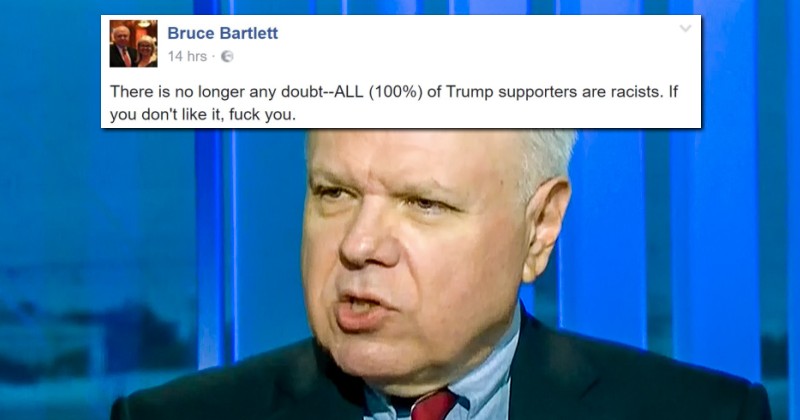 "Deep State" message from their spokesman Bruce Bartlett to all American citizens supporting President Trump
Most angering the "Deep State" against President Trump, this report explains, is his continuing to allow Russia and its Syrian allies to win the war against ISIS—and that even in spite of "some elements" within the US continuing to sell weapons to ISIS on a daily basis, the MoD has been able to obtain ceasefire agreements from 229 "armed formations" involved in this conflict, and that has allowed over 600,000 Syrian peoples to return to their homes this year—and whose Syrian national football (soccer) team, also, has a good chance of qualifying for the 2018 FIFA World Cup for the first time ever.
The American people, of course and as always, this report conclude, are not allowed to know the truth of Russia's massive victory in Syria against the ISIS terror barbarians as their warmongering "fake news" propaganda media continues its drumming up support for global carnage—and who appear likely to get what as evidenced by North Korea now threatening a "horrible disaster" for South Korea should they continue their civil and military alliance with America, and their bluntly stating: "If we fire, they will die. This is the inescapable fate of the puppet warmongers."