Trump's Jerusalem recognition: Fears of global backlash
Trump's Jerusalem recognition: Fears of global backlash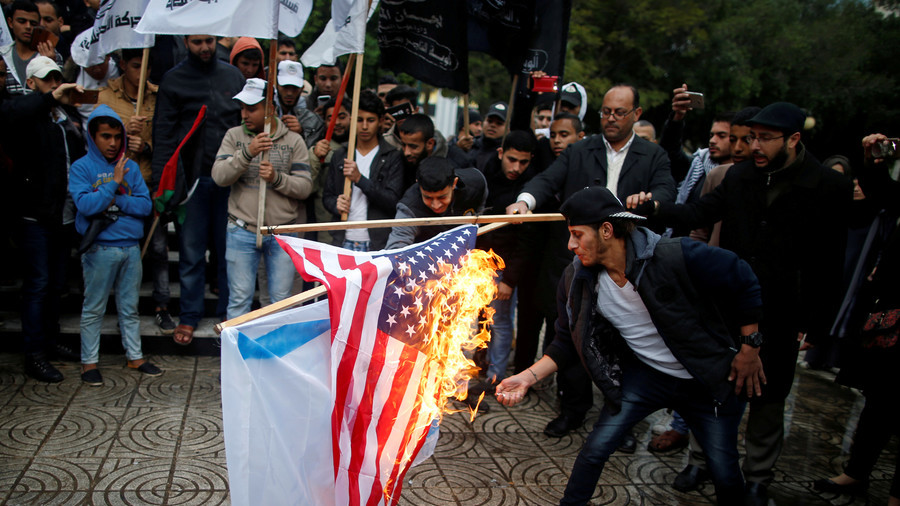 World leaders are expressing concern over the Trump administration's expected decision to move the US embassy from Tel Aviv to Jerusalem and recognize the city as Israel's capital. A number of demonstrations are planned across the Arab world in the coming days.
06 December 2017

14:01 GMT

Hundreds of Palestinians have reportedly gathered in Gaza to protest the US decision to recognize Jerusalem as the Israeli capital. Protesters brandishing banners calling Jerusalem "our eternal capital" also burned American and Israeli flags at the demonstration, according to AP. The protests are part of the "three days of rage" announced by Palestinian factions.

13:28 GMT

The US consulate in Jerusalem has issued new safety guidelines to American citizens in the city. These include a ban on personal travel in Jerusalem's Old City and the West Bank. Essential travel by official government employees is permitted, but only with "additional security measures," the consulate said in a statement on Twitter.

"United States citizens should avoid areas where crowds have gathered and where there is increased police and/or military presence," the statement reads.

Security  Message for US  Citizens 

13:03 GMT

Donald Trump is scheduled to make the announcement recognizing Jerusalem as Israel's capital in a speech at the White House at 1pm local time (18:00 GMT). The president is also expected to direct the State Department to begin looking for a suitable site for the US embassy in Jerusalem.

12:46 GMT

Rex Tillerson believes there is a "very good opportunity" for peace in the Middle East. Speaking in Brussels, the diplomat backed US President Donald Trump's son-in-law and senior adviser Jared Kushner to succeed with the peace effort, adding that Kushner is working "very diligently" to achieve it.

12:42 GMT

British Prime Minister Theresa May says she intends to speak to Trump about the US recognition of Jerusalem as the capital of Israel. Speaking in Parliament, she reiterated her country's commitment to a two-state solution and said the fate of the city should be determined as part of an overall settlement between Israel and the Palestinians.

12:31 GMT

Palestinian Prime Minister Rami Hamdallah believes the announcement will "destroy the peace process and the two-state solution." Hamdallah met with European diplomats Wednesday and said he expects the decision "will fuel conflict and increase violence in the entire region."

He also called on European countries to recognize the statehood of Palestine on lands captured by Israel in 1967, according to AP. Meanwhile, Palestinian President Mahmoud Abbas will reportedly hold a meeting of key advisors following Trump's formal announcement, which is expected to come later today.

Prime Minister Dr. Rami Hamdallah meets at his office the heads of the European Union diplomatic mission in Palestine, and briefs on the current political developments, especially the moving of the American embassy to Jerusalem.

12:05 GMT

Pope Francis says he's "profoundly concerned" about the developments, adding that Jerusalem is a unique and sacred place for Christians, Jews and Muslims. The pontiff made the comments during his weekly audience at the Vatican.

Urging all parties to respect "the status quo of the city" according to UN resolutions, Pope Francis said he hoped that wisdom and prudence would prevail and prevent fresh global conflicts.

12:05 GMT

Iran's Ayatollah Ali Khamenei condemned the decision to recognize Jerusalem as the Israeli capital. "That they claim they want to announce Quds as the capital of occupied Palestine is because of their incompetence and failure," Khamenei said, using the Arabic name for Jerusalem, according to his official website.

11:50 GMT

Erdogan has called an emergency meeting of the Organization of Islamic Cooperation (OIC) to discuss Jerusalem's status. The OIC, which is made up of 57 member states including the UAE, Iran and Saudi Arabia, will meet on December 13 in Istanbul.

Turkey's Foreign Minister Mevlüt Çavuşoğlu has tweeted a picture from his meeting with US Secretary of State Rex Tillerson in Brussels. Çavuşoğlu said he reminded the US diplomat that the decision to move the US Embassy to Jerusalem would be a "grave mistake and would bring chaos instead of stability to the region."

At our bilateral meeting with US Secretary of State Rex Tillerson, we once again reminded that moving the US Embassy from Tel Aviv to #Jerusalem would be a grave mistake and would bring chaos instead of stability to the region.

11:04 GMT

Turkish President Recep Tayyip Erdogan threatened to cut diplomatic ties with Israel over the move, saying it would be a "red line" for Muslims. He made the statement in a series of tweets Tuesday in which he also labelled US support for Israel "a violation of international law."

Filistin halkının yaraları kanamaya devam ederken, hak ihlalleri, zulüm ve baskılar sürerken, İsrail'e destek mahiyetinde böyle bir kararın alınması, sadece uluslararası hukukun ihlali değil, aynı zamanda insanlık vicdanına da vurulmuş ağır bir darbe olur.

ABD'yi, bölgedeki sorunları daha da derinleştirecek böyle bir adım atmaması konusunda ikaz ediyoruz.

Kudüs, Müslümanların kırmızı çizgisidir.