House Democrats introduce 'Abolish ICE' bill [THEY'RE COMMIES WISHING TO DESTROY AMERICA]
House Democrats introduce 'Abolish ICE' bill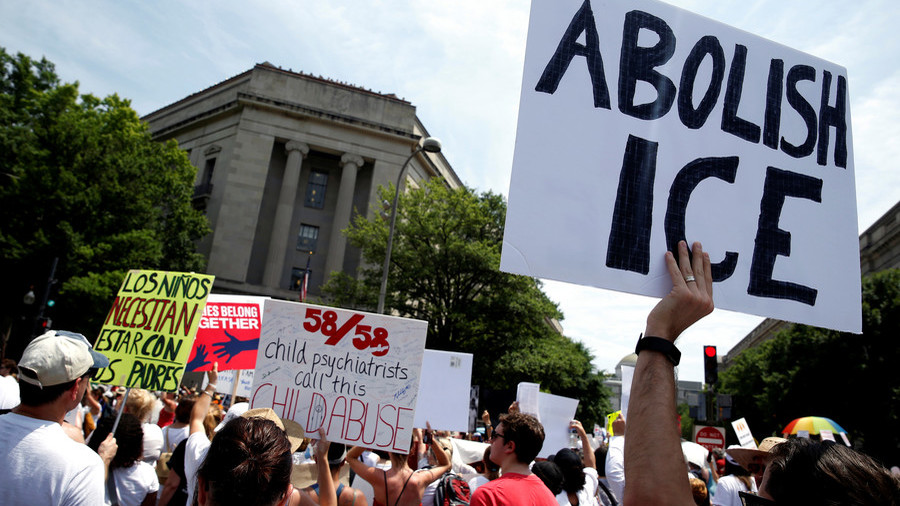 The far left's calls to abolish Immigration and Customs Enforcement (ICE) took one step closer to reality, as progressive House Democrats introduced a bill that would disband the agency and shift its duties to other agencies.
The bill, sponsored by Democrat Representatives Mark Pocan (Wisconsin), Pramila Jayapal (Washington) and Adriano Espaillat (New York) is the first effort by liberal Democrats to legislate the controversial agency out of existence, and was introduced on Thursday.
Its sponsors argue that ICE has become a "militarized" deportation force, used by the Trump administration to "terrorize our communities" with "unchecked power," according to Pocan.
The bill, called the Humane Immigration Enforcement System Act, would see a commission established to review ICE's responsibilities and recommend transferring them to other agencies. After one year, Congress would implement the commission's proposed recommendations and disband ICE.
"The agency has a very broad jurisdiction and was created to combat terrorism, human trafficking, and drugs. Yet, ICE now spends the majority of its time detaining and separating mothers and fathers seeking safety for themselves and their children," said Espaillat.
Read more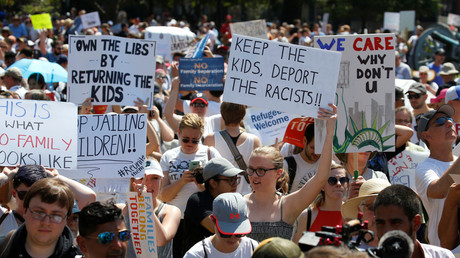 #FamiliesBelongTogether: Nationwide protests over immigrant separations, detentions (PHOTOS, VIDEOS)
ICE was established in 2003, as then-President George W. Bush sought to beef up America's security in the aftermath of the 9/11 attacks. It was formed with the merger of several existing agencies like the Immigration and Naturalization Service and the US Customs Service, all under the umbrella of the newly-formed Department of Homeland Security.
It seems extremely unlikely that the House Democrats' latest bill will result in ICE's abolition. Republicans hold a majority in the House and some more centrist Democrats do not support such a drastic step. In addition, only 25 percent of Americans and 43 percent of Democrats support abolishing ICE, according to a recent Politico poll.
House Speaker Paul Ryan (R-Wisconsin) called the bill "the craziest position I've ever seen," adding that Democrats are "tripping over themselves to move too far to the left."
'Abolish ICE' became a rallying cry for the progressive wing of the Democratic party amid outrage over President Trump's 'zero tolerance' immigration policy. After it emerged last month that the Trump administration was separating illegal immigrant children from their families and detaining them, protesters have picketed ICE offices and 'Antifa' activists distributed a database of some 1,600 ICE employees, featuring names, photos, addresses and children's names of the staff.
While ICE is responsible for enforcing immigration policy, it is also tasked with other missions, like fighting money laundering, cybercrime, transnational gangs, and human trafficking. However, public anger against the agency has risen to a point where Democrat politicians are embracing calls to shut it down.
2020 presidential hopefuls Sen. Kirsten Gillibrand (D-New York) and Sen. Elizabeth Warren (D-Massachusetts) have taken up the torch and called for the agency's abolition, as have former New York Mayor Bill de Blasio and former Obama Homeland Security Secretary Jeh Johnson.
So too has Alexandria Ocasio-Cortez, a 28-year-old Democratic Socialist who ousted 10-term incumbent Joseph Crowley in New York's Democratic primary last month. In an interview given to CNN after her victory, Cortez incorrectly described ICE as an "extrajudicial"organization that runs "black sites at our border."
The Trump administration, however, has vowed never to abolish ICE. In a speech to agency employees last week, Vice President Mike Pence said that his administration is "with you 100 percent."
Last month, Trump told Fox Business that abolishing ICE would "lead to massive, massive crime," and accused progressive Democrats of running on a platform of "open borders which equals crime."
"I think they'll never win another election," he said. "So I'm actually quite happy about it."