We consider Trump partner, not 'competitor' – Putin's adviser
We consider Trump partner, not 'competitor' – Putin's adviser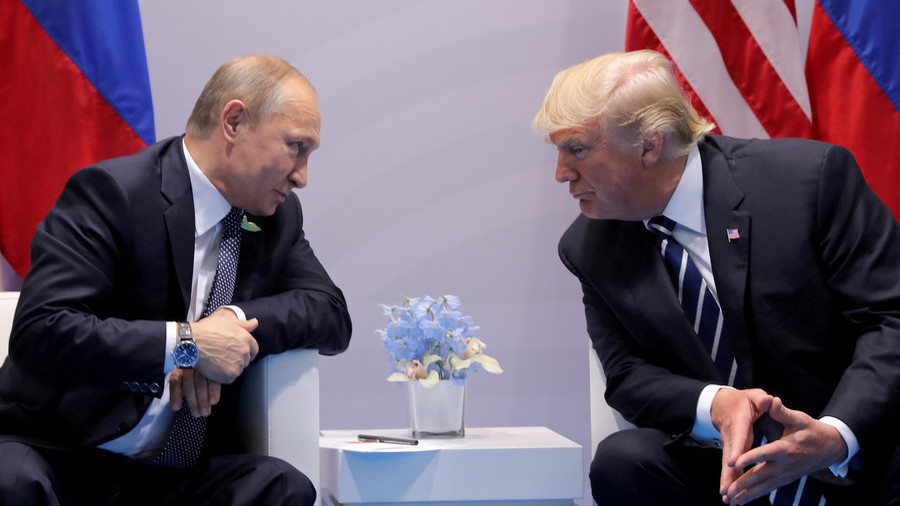 When asked what the Kremlin thinks about Donald Trump calling Vladimir Putin a 'competitor,' the Russian president's adviser said that Moscow considers the US president to be 'a partner.'
Yury Ushakov told journalists ahead of the forthcoming summit in Helsinki that even the holding of the meeting itself is important for establishing "the chemistry of relations" between the two leaders.
"The goal of this meeting, as we see it, is to finally start changing the negative situation in relations between the US and Russia for the better," the Russian president's aide said, adding that it should involve "some concrete steps aimed at … bringing mutual trust to some acceptable level." He also said that the sides could focus on "mutually beneficial cooperation on the issues of mutual interest."
The Russian president's aide also told the journalists that Moscow and Washington actually have no compelling reasons for confrontation at the moment. "Our relations have lately obviously been in a crisis state," he said, adding that the "existing tensions have no objective causes" as the two nations actually face common challenges ranging from international terrorism to non-proliferation of weapons of mass destruction and regional crises.
"The Russian side has repeatedly demonstrated its readiness to work on mending bilateral ties together with the US,"Ushakov said, adding that such dialog should be based on the principles of equality and mutual respect to the interests of both nations.
Addressing the journalists, Ushakov reiterated that Russia has never interfered in the US elections and had never intended to do so. "I would like to state it once again, ahead of the forthcoming meeting, that the Russian state has never interfered and is not going to interfere in the internal affairs, not to mention the election process, of the US," the Kremlin official said.
Ushakov also said that, if Washington has any evidence of Russian meddling, Moscow is ready to discuss this issue. The president's aide drew attention to the fact that such issues could have been discussed at the level of the joint US-Russian panel on cyber-security, which was already discussed by Putin and Trump on the sidelines of the G20 summit in Hamburg last year. However, Washington has since appeared reluctant to support this initiative.
The Kremlin official then said that Moscow is concerned about attempts by US officials opposing better relations between the US and Russia to "speculate" on this "fictitiously ramped-up" topic of alleged Russian meddling.
Strategic stability and US efforts to build up its ever-expanding global missile defense system will be one of the key topics of the meeting, Ushakov said, adding that the two leaders would also discuss other issues related to arms buildup and the non-proliferation of weapons of mass destruction.
Syria is likely to become another key issue at the negotiations, the Russian president's advisor said, adding that "it is important both for Russia and the US to cooperate in the process of the Syrian crisis reconciliation." The list of issues that Trump and Putin could discuss during the summit in Helsinki also includes the situations concerning Iran and North Korea, as well as the Ukrainian crisis.
At the same time, Ushakov said that the two leaders are not expected to issue a joint statement following the summit. Instead, they are likely to present separate statements during a press conference, Ushakov said, adding that he personally believes it would be "the most realistic outcome."