'Lines not to be crossed': Israel must learn from Il-20 incident & cherish Russia ties, experts say
'Lines not to be crossed': Israel must learn from Il-20 incident & cherish Russia ties, experts say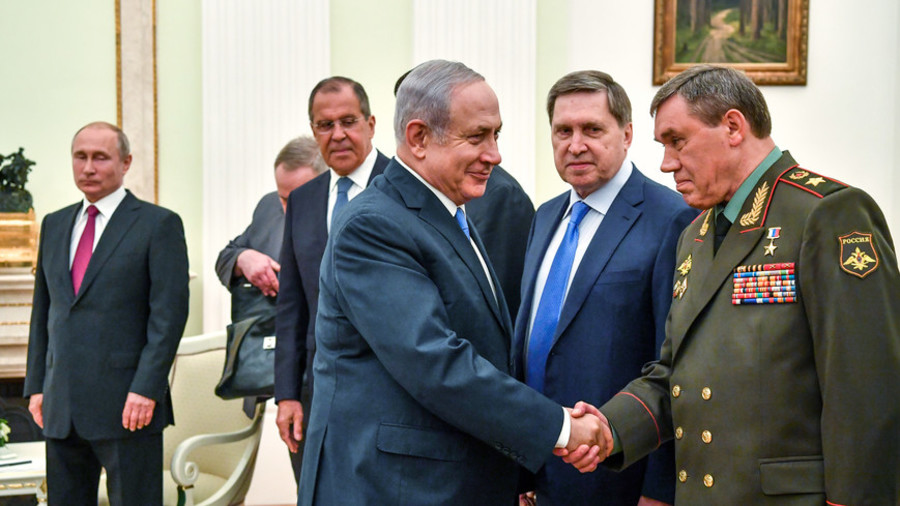 Israel must understand that some lines 'cannot be crossed' and any exacerbation of relations with Russia could be detrimental to the entire fragile balance of power in the Middle East, experts and political observers told RT.
Russia has always managed to keep a neutral, "even-handed" position amid all of the ongoing perturbations in the Middle East as it seeks to keep good relations with all major regional players, including Israel, Turkey and Iran, Gideon Levy, a columnist at the Israeli Haaretz newspaper, told RT. Israel in particular has nothing to complain about in its relations with Moscow, which has always taken Tel Aviv's interests into account, he added.
However, with its careless behaviour, which led to the downing of a Russian plane in Syria, as Russian Defense Ministry's spokesman put it, Israel "has crossed the line of civilized relations."
It is a matter of key importance for Tel Aviv to keep good relations with Moscow, which is serving as a kind of broker in a "very fragile reality" filled with "contradictory interests and violence," several experts told RT.
Both Russia and Israel are interested in preventing the Syrian conflict from "spilling over to the neighboring countries," Barak Seener, CEO of Strategic Intelligentia and former Middle East fellow at the Royal United Services Institute (RUSI), said. Moscow is also a "very important ally of Israel" when it comes to dealing with any potential danger posed by the Iran-backed groups in Syria, Martin McCauley, an author and Russia analyst, said.
It was Russia that held negotiations with Tehran and secured the withdrawal of the armed groups backed by Iran away from the Syrian south-western regions bordering the Israeli territories earlier this year. If allowed to deploy its missile systems and other heavy weaponry to the Israeli border, those groups could potentially deal a devastating blow to the Jewish state, McCauley said.
It's in the best interest of Israel, experts believe, to prevent tensions between the two countries from escalating following the downing of the Russian Il-20 military plane, which was hit by Syrian air defenses on September 17 as Israeli's F-16s used it as a shield during an attack on some targets in Syria.
The incident has already provoked a brief spat between the two nations as the Russian Defense Ministry accused Israel of neglecting its duties and misinforming the Russian military about their mission in Syria. "Israel needs to work closely with Russia to ensure that if they are targeting any transfer of weapons by Iran to its proxies then there are no Russian forces there at that time," Seener told RT. "A one-minute warning is definitely not enough," McCauley said.
"Israel has to understand that there are lines that cannot be crossed," Levy said, adding that Tel Aviv must understand that crossing such lines would come at a "price." He also said that Israel has to review its reckless approach towards its bombing campaign in Syria as it "cannot be accepted by anyone" and has to "come to an end."
Following the incident, Israel indeed rushed to take responsibility for its airstrikes, which is not something it usually does in such cases, at least not until much later. Israeli Prime Minister Benjamin Netanyahu also quickly phoned Russian President Vladimir Putin to express his condolences. At the same time, Israel refused to admit any responsibility for the incident involving the Russian Il-20 itself. Instead, the IDF pinned the blame on Damascus and its allies, Iran and Hezbollah.
However, when Moscow criticized Israel for not providing advance warning of the raid and said the Israeli jets used the Russian plane to mask their approach, Tel Aviv sent a delegation to Russia headed by its Air Force chief, Major-General Amikam Norkin. There, he presented a situation report on the incident, including "the findings of the IDF inquiry regarding the event," and the "pre-mission information" the Israeli military was so reluctant to share in advance. "Both sides emphasized the importance of the states' interests and the continued implementation of the deconfliction system," an IDF statement read.
The Israeli leadership drew some early conclusions from the incident with the Russian plane, according to some observers. "There is a genuine regret that this has happened," Mitchell Barak, a political analyst, told RT. One of the "positive outcomes" of this tragedy is the fact that Tel Aviv has come to an "understanding that Russia and Israel have to coordinate better on the professional level and on the military level," he added.