Florida midterm mayhem: County supervisor refusing to submit ballots despite court order
Florida midterm mayhem: County supervisor refusing to submit ballots despite court order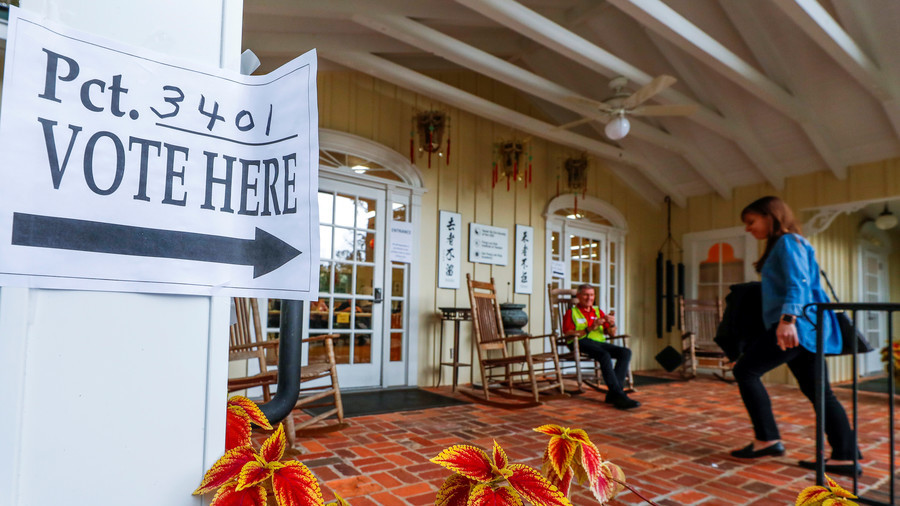 Florida Gov. Rick Scott has accused the Palm Beach County supervisor of ignoring a court order compelling her to hand over all questionable ballots to the canvassing board by Saturday – a task she said is "physically impossible."
Scott, the outgoing governor, is vying for a Senate seat and holds a shaky advantage of fewer than 15,000 votes over Democrat Bill Nelson. This has seen tensions flare in the Florida Senate race, the outcome of which is growing increasingly uncertain.
Since the polls closed on Tuesday, Scott's once-solid lead almost completely evaporated as additional ballots were counted in Broward County and Palm Beach County.
Alleging improper handling of ballots and possible vote tampering, Scott sued Palm Beach County Election Supervisor Susan Busher, as well as Broward County Supervisor Brenda Snipes, on Thursday night. He demanded that they provide the total number of ballots received and processed, and that Busher hand over the so-called undervotes and overvotes to the state's canvassing board, as stipulated by law, instead of allegedly determining voter intent at her own discretion.
The court has sided with Scott in these two separate cases. While Snipes complied the 7pm deadline to submit the requested voter information, Busher said that it would be impossible for her to hand over copies of damaged ballots, as well as undervotes and overvotes, to the canvassing board by 10am on Saturday.
Overvotes happen when a person appears to vote for more than one candidate or the number allowed by the election. Undervotes occur when no mark has been ticked on the ballot or the marking is unclear.
It would be "physically impossible to locate, separate and re-canvass the ballots," Busher told WPBF station, as she filed a motion for an emergency hearing to extend the deadline. The hearing has been set for 8.30am – just an hour and a half before the court's deadline expires.
READ MORE: Blame Russia? Trump jokes over Florida & Georgia vote shenanigans
In a statement issued by Scott's campaign, the governor accused Busher of disrespecting the court and state law in general, referring to her refusal to honor the repeatedly missed deadline.
"Susan Buchar has consistently refused to follow state law and comply with legally required deadlines and regulations. Whether it's gross incompetence or intentional disregard for the rule of law is irrelevant at this point. Either way, it's embarrassing and unacceptable," the statement read.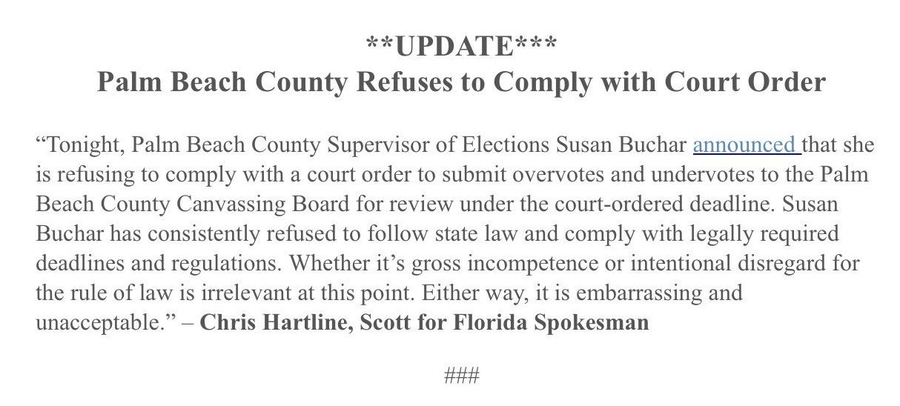 If the numbers stay the way they are, the election is heading for a recount. Per Florida law, the ballots are subjected to a machine recount if the margin is less than 0.5 percent, and a hand recount if it's under 0.25 percent.