How Khashoggi was killed: Erdogan says chilling audio sent to Saudi Arabia, US, UK, France & Germany [BULLSHIT]
How Khashoggi was killed: Erdogan says chilling audio sent to Saudi Arabia, US, UK, France & Germany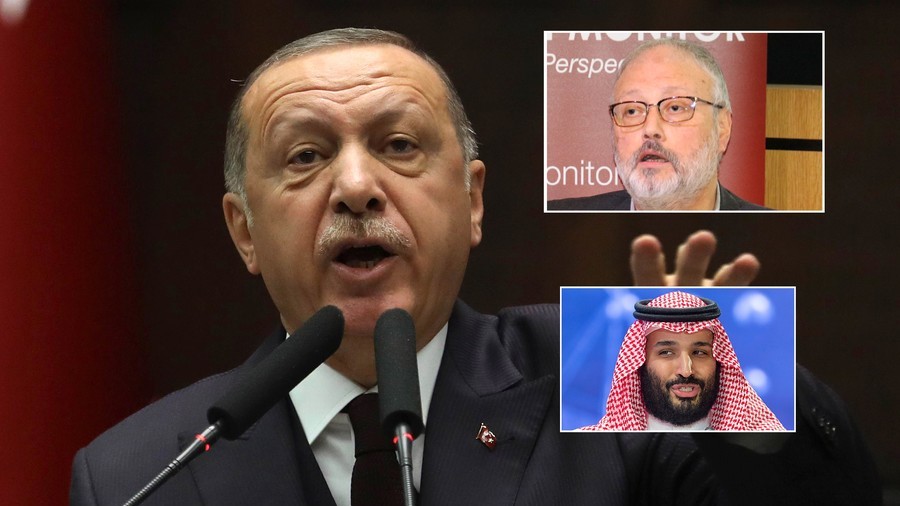 The recordings that could reveal the killing of Jamal Khashoggi at the Saudi embassy in Turkey in shocking detail have been shared with France, Germany, Saudi Arabia, the UK, and the US, President Recep Tayyip Erdogan has said.
"They all know since they all listened to the conversations and everything," Erdogan said in a televised speech on Saturday.
Erdogan also accused Saudi Arabia of knowing that the killer of the former Washington Post columnist is among a group of 15 Saudis who touched down in Turkey the day prior to the killing, leaving again for Riyadh in the hours following Khashoggi's death.
"Saudi Arabia could resolve this by making this 15 talk," Erdogan said. "The murderers are surely among this 15 or 18, there's no need to look elsewhere."
Ankara has claimed to have had audio of the blood-curdling murder ever since the journalist went missing on October 2, after going inside the Saudi consulate in Istanbul, never to be seen again.
Unconfirmed reports of the contents of gruesome tape allege that Khashoggi was grabbed, drugged and dismembered on a tape with a bone saw. The voice attributed to a Saudi forensic evidence chief also suggests that others witnessing Khashoggi's harrowing fate listened to music in order to drown out the sounds.
Saudi Arabia had initially denied that Khashoggi was killed inside the building, initially insisting that he left it. They later changed their story to say the journalist was accidentally killed in a fist fight after an argument broke out. Riyadh now insists that the killing was carried out in a rogue operation unbeknownst to the leadership.
However, Erdogan has insisted that Khashoggi had been killed on order from the "highest levels" of the Saudi government.