People re-enact French students' arrest by police that sparked outcry
People re-enact French students' arrest by police that sparked outcry (PHOTO, VIDEO)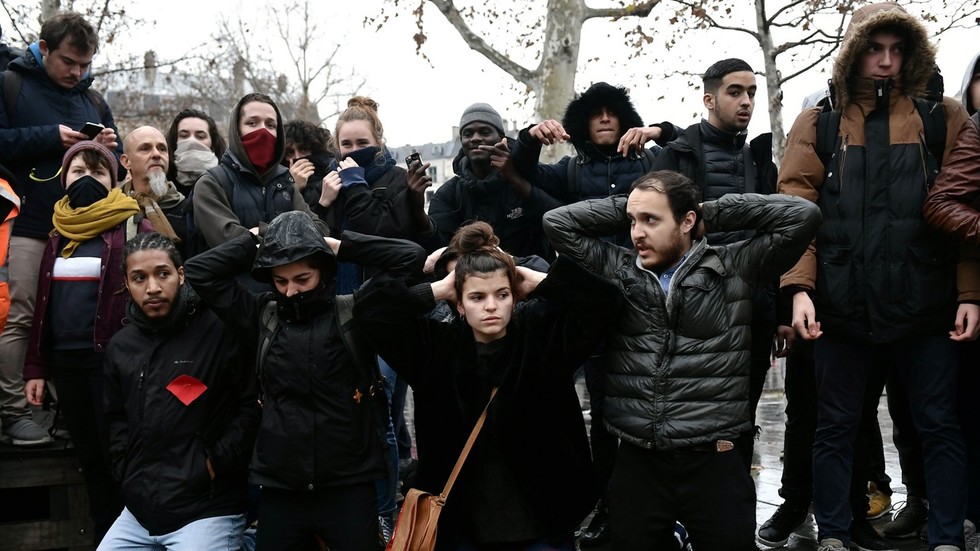 On their knees and with hands on heads, people in France have re-enacted the controversial arrest of high school students in Mantes-la-Jolie which stirred mass outrage.
Recent footage depicting rows of education reform protesters on their knees, with baton-wielding officers standing over them near Saint-Exupery high school, has gone viral. Uploaded on Thursday evening, it gathered thousands of angry comments online, with many likening the image to execution by firing squad.
READ MORE: mages of students' arrests 'shocking', France in 'exceptional violence' – education minister
On Friday, dozens of high school students showed up at the Place de la République in Paris to show their solidarity with the protesters. They re-enacted the arrest scene, kneeling with their hands behind their heads. Similar actions were held in Montreuil, an eastern suburb of Paris, and the city of Dijon in the east.
Place de la République, les lycéens miment les interpellations d'hier en solidarité avec leurs camarades de Mantes.
En soutien aux #lycéens de #MantesLaJolie, les élèves et le personnel du Castel se sont agenouillés mains derrière la tête sur la place du 30 octobre
READ MORE: 'Like execution by firing squad': VIDEO of French students' arrest by armed police stirs OUTRAGE
Think your friends would be interested? Share this story!