Harassment scandals hit GOP & Dem campaigns, only 1 gets mass attention
Harassment scandals hit GOP & Dem campaigns, only 1 gets mass attention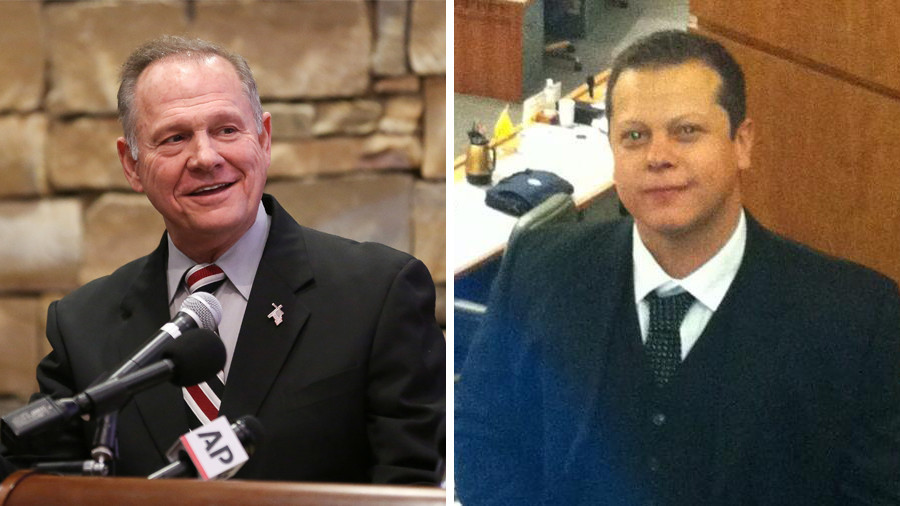 As Alabama Republican US Senate candidate Roy Moore fights an allegation of attempted rape of an underage girl, very little media attention has been paid to a Democrat running for Congress who has been arrested on a felony stalking charge.
On Wednesday, Moore's campaign attorney Phillip Jauregui held a press conference outside the Alabama Republican Party headquarters to challenge one of the sexual assault allegations the candidate is facing.
Moore, through his attorney, said there was "no way in the world" he wrote the inscription on a yearbook cited as evidence on Monday by accuser Beverly Young Nelson. Jauregui called on Allred to release the yearbook so a handwriting expert could "draw their own conclusions."
"Release the yearbook so we can determine is it genuine or is it a fraud," Jauregui said.
Nelson accused Moore of sexually assaulting her when she was 16, when he was in his 30s. Nelson said that in the late 1970's, Moore drove her to a deserted area, where he groped her breasts, tried to pull off her shirt and pushed her head toward his crotch.
Ms. Nelson's printed statement includes a picture of Moore's note in her yearbook…

"Love, Roy Moore D.A."
"To a sweeter more beautiful girl, I could not say, 'Merry Christmas," the message read. "Love, Roy Moore DA."
Jauregui pointed to the initials "DA" after the signature, clarifying that Moore was not the district attorney at the time, but only the assistant district attorney. How those letters got there, according to Moore's lawyer, may be connected to another hole in the accuser's story.
During the news conference on Monday, Nelson said that she never had any contact with Moore after the incident. However, Jauregui said that was a lie, citing the fact that Moore was the judge who presided over her divorce case in 1999. Jauregui suggested that the "DA" was how Moore's assistant, Deborah Adams, wrote her initials on an order in the case.
Just after the press conference on Wednesday, another woman accused Moore of sexual assault, saying he grabbed her buttocks.
In a tweet Wednesday, Moore accused Senate Majority Leader Mitch McConnell of "attempting to subvert the will of Alabamians" by "helping to elect a far-left Democrat."
Mitch McConnell is attempting to subvert the will of Alabamians yet again, this time helping to elect a far-left Democrat! #alsen
Meanwhile, on the other side of the aisle…
David Alcon, a Democrat running for the US House of Representatives in New Mexico's second district, was arrested by Albuquerque police on Friday after a woman accused him of stalking her, according to the New Mexican.
A Santa Fe judge signed a warrant for Alcon's arrest nearly two weeks ago after a woman told police that Alcon sent her a series of threatening text messages while she was at a Halloween party. Alcon allegedly sent the woman a picture of his genitals, and a series of text messages telling her he loved her and wanted to have children with her.
The woman said that she texted Alcon back multiple times, telling him "that she did not want anything to do with Alcon, and she repeatedly told him to leave her alone," according to the criminal complaint obtained by The New Mexican.
The woman told police that she met Alcon 10 years ago at a political party and he had been texting her ever since, according to The New Mexican.
She later called the police and told them Alcon was at her apartment, watching her, according to KRQE.
Before Alcon's sentencing, District Judge Michael Vigil said that his charges were "unbelievable."
"That is creepy. That is scary for a person. You would not go away. Violence takes a lot of different forms. [What you did] was a form of violence to the victim," Vigil said, according to the Daily Caller.
Alcon was previously arrested for stalking in 2007 after he broke into his girlfriend's house and continued to show up and leave her messages without her consent, according to The New Mexican.
After Alcon was arrested, Meredith Kelly, spokeswoman for the Democratic Congressional Campaign Committee (DCCC), called his alleged behavior "despicable and serious."
"He is not fit to run for office in New Mexico or anywhere else," Kelly said in a statement to The New Mexican. "The DCCC has not had any interaction with him, and in light of these allegations, neither Chairman Lujan nor the DCCC will support his candidacy."
Alcon has still not filed the paperwork with the Federal Election Commission (FEC) to run for the congressional seat currently held by Republican Rep. Steve Pearce, who is running for governor.
Alcon's arrest has not been covered on any of the mainstream media networks, who have spent a combined 79 minutes talking about the allegations against Moore between November 9 and November 13, according to the Daily Caller.