Making Abandoned Homes Look Occupied Is a Booming American Business
Making Abandoned Homes Look Occupied Is a Booming American Business
By Kelsey Campbell-Dollaghan on 09 Apr 2015 at 10:30PM
http://www.gizmodo.co.uk/2015/04/making-abandoned-homes-look-occupied-is-a-booming-american-business/
Sure, the foreclosure crisis has subsided from its peak a few years ago. But in its wake it's left thousands of vacant homes across the USA—which are now decaying and becoming a blight. One solution? Slapping on some stickers that give the appearance of habitation.
The Minneapolis Star Tribune's Eric Roper reports on one county that was hit particularly bad by foreclosures. It's now spending about $800/£544 per house to cover up the boarded-up windows with vinyl prints of windows that have blinds and clean mullions. The idea, Roper explains, is to find out whether the extra cash—on top of the cost of boarding the house up, which is paid by the city—is worth it to prevent "copper theft or people dumping mattresses, appliances or furniture in the garden."
Fake windows hide blight of vacant homes. http://t.co/Co3JI7NnrE Photo: @KyndellHarkness pic.twitter.com/mWbJ2kizKC

— Star Tribune (@StarTribune) April 7, 2015
This is far from the first time we've heard about using sleight-of-hand to disguise blight. When northern Ireland hosted the G8 summit in 2013, Reuters reported that the US government spent more than £1.35 million putting up fake facades and billboards to disguise the effects the economic crisis was having on its towns.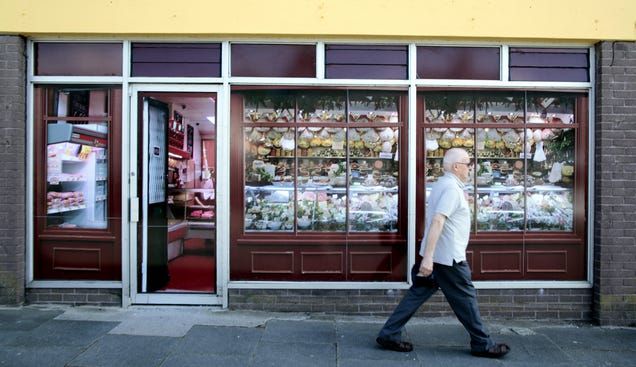 Belcoo, Northern Ireland, 2013. AP Photo/Peter Morrison.
The same year, The Wall Street Journal introduced a number of a new companies in cities like Flint and Cleveland, which specialise in making abandoned homes look lived-in.
One company featured, called Home Illusions, sells dozens of different decals replicating different styles of doors, windows, and even gardening accessories. Their top seller at the moment, according to their website? A fake stained glass window featuring a soaring dove, which will set someone back $112/£76: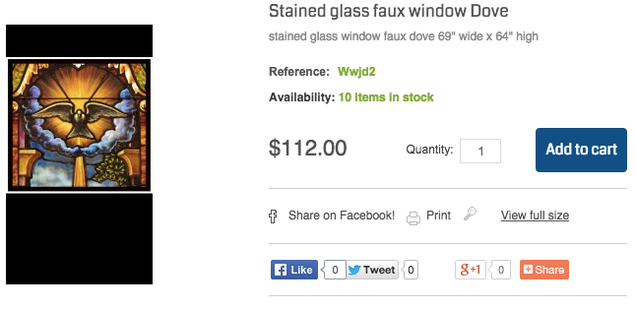 But the WSJ also says that local nonprofits are working hard to make neighbourhoods look live-in, too. For example, one stages much more elaborate reuses:
Aside from paint, the Grandmont Rosedale Development Corp., a community development nonprofit in Northwest Detroit, uses a number of fake-outs, including putting out empty garbage cans on trash day, dressing abandoned homes with Christmas decorations in December and having volunteers leave tire tracks in driveways after it snows.
In fact, the trend goes way further back than 2013.
An NBC News segment from 1980 describes how New York City used decals to cover the windows of several Brooklyn homes that were abandoned—including trompe l'oeil details that give the impression of depth, with shutters and even a plant in the window: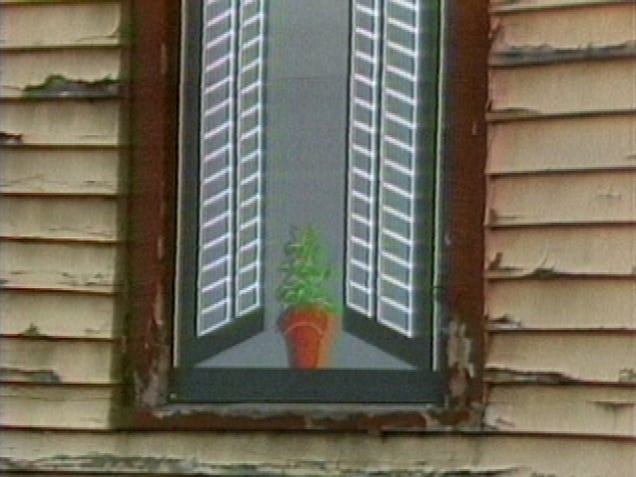 NBC.
Some of these measures sound ridiculous and superficial—most trend pieces mention the Potemkin town, a fake "village" of false facades built to deceive Catherine the Great in the 18th century.
But in reality, these aren't just cosmetic measures. They're meant to prevent everything from a solid-but-vacant home from being looted, to giving neighbours a sense of security and preventing further decay of community. Back in 1980, the NYC housing commissioner described it as "buying time" to repair and rehab the homes "while the neighbourhood was still viable and that people wouldn't flee, worrying about this one or two bad buildings."
Do they work? In Minneapolis, the city government is trying to find out.