N. Korea holds large-scale military parade on eve of Olympics
N. Korea holds large-scale military parade on eve of Olympics (VIDEO)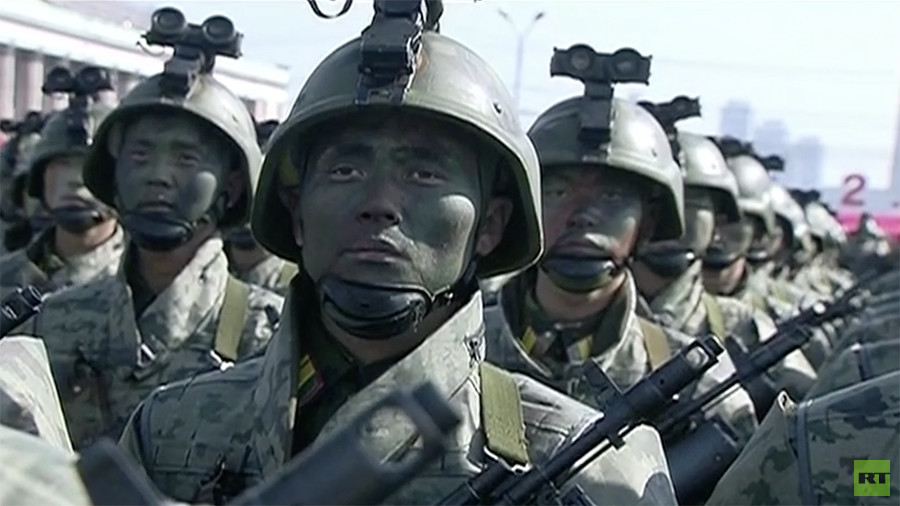 Despite criticism, Pyongyang has staged a massive military parade just one day before the opening of the Winter Olympics in South Korea. Seoul earlier called the move "intimidating."
North Korea held the military parade to mark the 70th anniversary of its armed forces, the Korean People's Army (KPA). The parade came on the eve of the Winter Olympics in PyeongChang, where the teams of the two countries will march under a unified Korea flag at the opening ceremony.
A video released by KRT state TV shows thousands of troops marching through the central Pyongyang square followed by multiple armored vehicles. North Korean leader Kim Jong-un and top military officials observed the parade.
The North was in no rush to provide details or pictures of the parade and did not invite foreign journalists. Hours before Pyongyang released the footage, videos and photos by foreign tourists emerged online, showing a motorcade of military vehicles driving through the streets of the capital.
Some photos were taken by Michael Spavor of the Paektu Cultural Exchange, an international non-governmental organization that facilitates cultural and business exchange with North Korea. The organization also offers its clients "a special trip" to enjoy a "rare military parade," which was likely to occur on Thursday, according to its website.
Earlier, satellite images captured what appeared to be preparations for the event, with photos supposedly showing armored vehicles and equipment at the North's Mirim Parade Training Facility.
READ MORE: Trial run of 'intimidating' N. Korea military parade captured by satellite (PHOTOS)
The contentious move comes despite a recent diplomatic thaw between the North and South. In January, delegations managed to hold talks and agree on North Korea's participation in the Olympics, as well as the creation of a united women's hockey team.
Hundreds of North Koreans, including high-profile officials, an orchestra, and cheerleaders have arrived in the South for the Olympics. The arrival of an art troupe was met with a small protest and sporadic scuffles between South Korean police and demonstrators.
However, the US is still calling for pressure on North Korea to be ramped up, and plans to continue military drills with its allies in the region after the Olympics, in addition to recent drills. The maneuvers have been repeatedly criticized by Pyongyang, which refuses to halt its nuclear and missile tests.
North Korea does not intend to use the Olympics as an opportunity to come to the negotiating table with Washington.
"We have no intention whatsoever to meet US authorities during our visit to the South," Cho Yong-Sam, a senior foreign ministry official, said as cited by state-run KCNA news agency He added that North Korea "never begged for dialogue" with the US and will not do it in the future. The statement came following Mike Pence's bellicose warning of more economic sanctions against Pyongyang before the end of the Winter Olympics, the "toughest and most aggressive" sanctions yet.