Windows 7 Still Used in Almost 50% of Surveyed Businesses
Windows 7 Still Used in Almost 50% of Surveyed Businesses

A new report shows that businesses continue to use older operating systems such as Windows 7, and even Windows Vista, even though they are no longer supported and less secure compared to Windows 10.
The data analysts firm NetMarketShare revealed that Windows 10 has seen a significant uptake in users and it's close to 50% of market share, but a new report from Kaspersky Security Network suggests that many users are still actively using outdated operating systems like Windows 7 and Vista.
According to new research from Kaspersky, many of its customers are still using Windows 7 and that's primarily due to its huge number of enterprise users. The research shows that 41% of surveyed customers still use Windows 7.
Even worse, some are still using Windows XP and Windows Vista, which are no longer supported and therefore do not receive security updates.
At least 40% of surveyed customers are very small businesses and 48% are SMBs. Perhaps more worryingly, 38% of customers and VSBs use Windows 7 operating system on small office and home office PCs. Of these surveyed businesses, 47% of SMBs and enterprises are still on Windows 7.
"More than a third (38%) of consumers and VSBs, and 47% of SMBs and enterprises, still run this OS. For small, medium-sized and enterprise business segments, the share of Windows 7 and the newest version Windows 10 (47% of workstations work on this OS) is the same," the report reads.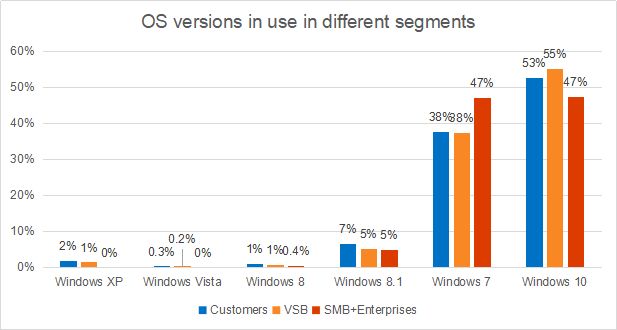 "The widespread use of Windows 7 is concerning as there is less than six months to go until this version becomes unsupported," said Alexey Pankratov, enterprise solutions manager at Kaspersky.
There are less than six months to go until Windows 7 becomes unsupported. According to Microsoft, Windows 7 will officially stop receiving the monthly security updates on 14 January 2020.
In its report, Kaspersky said that an old unpatched OS is a cybersecurity risk and it is highly recommended that users upgrade to the latest version of Windows.