School Closes Due to Online Article Questioning 'Dark Knight Rises' Map Connection
Giles County cancels school Wednesday after website asks if Narrows could be site of next school massacre
By Melissa Powell
381-8621
http://www.roanoke.com/news/breaking/wb/318511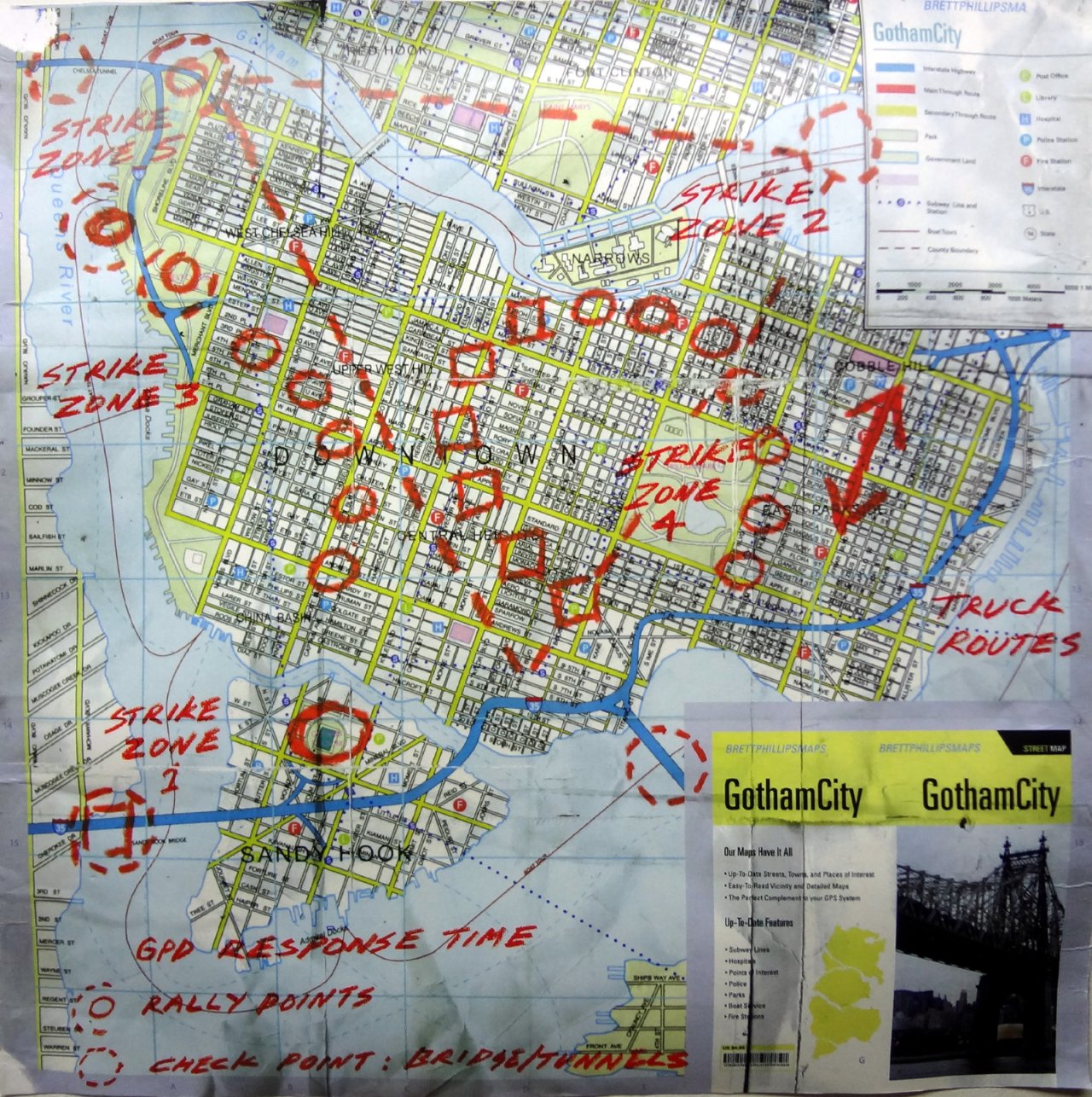 PEARISBURG — Giles County schools will be closed Wednesday to give law enforcement officials an opportunity to brief teachers and school administration about a website that mentions Narrows schools in a discussion about the Sandy Hook Elementary shootings in Newtown, Conn.
At a news conference held this afternoon in the Giles County Courthouse, Sheriff Morgan Millirons said that although no threat has been made against any Giles County school, officers felt it was important to take the information seriously.
Millirons said Virginia State Police informed local law enforcement last week that they had received a tip about an article on a website that pointed out that "Sandy Hook" was referenced on a map in a scene from the Batman movie "The Dark Knight Rises." Also on the map in the movie was "Narrows," Millirons said.
The article, which is still posted on www.revelationnow.net, refers to the mass shootings at a Colorado movie theater last year during a showing of the Batman movie, the Connecticut school massacre last month and a possible connection to Narrows schools. The headline is "The Next School Massacre Target?"
RevelationNow editor Michael Erevna said he wrote the article, which was posted on Dec. 18, with the help of the his staff and information from several sources. In the article, Erevna states that a character in the Batman movie "briefly drags his hand across the 'SANDY HOOK' part of the map, at 1 hour and 58 minutes into the film."
"The next strike zone on the map is 'NARROWS' and just on a hunch I entered 'NARROWS SCHOOLS' into GOOGLE Search and this is what I discovered. Narrows Elementary Middle School and Narrows High School, located in Narrows, Virginia," Erevna wrote in the article. "This made me cringe when I saw a match and I hope there is no relationship to the map and another school massacre."
During a phone interview, Erevna, who lives in New York, said RevelationNow is a medley of articles focused on knowledge, energy and spiritual power. Though the site often has several articles that discuss conspiracy theories, Erevna said an emphasis is also placed on science and astronomy, along with several other topics.
"We can't really pigeonhole ourselves," Erevna said, adding that the website has two other staff members and that articles are often written by freelancers and independent researchers.
The website staff posted an update Tuesday afternoon saying they'd noticed there's also a "Narrows" in New York City.
"This could make the above-mentioned theory moot. Remember folks this is all in fact a 'theory.' It was written because there is nothing more precious than children," the RevelationNow staff wrote.
Millirons, who was joined by Narrows Police Chief Bentley Ratcliffe at the news conference, said that Wednesday will be a teacher work day so that teachers and administrators can be briefed about the article. Students now are scheduled to return to classes Thursday.
Millirons said each Giles County school already has a school resource officer. Additional law enforcement officials patrol the schools, as well. Both practices will continue, he said.
"We think our school system is safe," Millirons said.
Erevna said he was hoping to make a positive impact with the article and was glad to hear that the Giles County school district was taking precautions.
"We just thought that if we laid out the patterns — we did hope the police would eventually see it and take some kind of action," Erevna said. "I just hope something good happens. Like President [Barack] Obama said, it's time to reevaluate gun laws in this county and safety in public schools."
Giles County Superintendent Terry Arbogast could not be immediately reached Tuesday. He posted a letter to parents on the school district's website that explained the situation.